THAILAND OUTCLASS INDONESIA TO MOVE CLOSE TO ANOTHER TITLE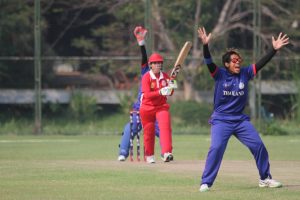 Thailand had been made to work hard by Indonesia in the final of the SEA Games in Malaysia last year but it was a completely different story when the two sides met at TCG in Bangkok. Thailand made a fantastic total of 16& for 2 in their 20 overs as Nattakan Chantam made an unbeaten 76, the highest score of the tournament and Nattaya Boochatham hit 43 as they added 95 for the second wicket. Indonesia had started well in the Asean T20 but they could make only 25 as Wongpaka Liengprasert took three wickets for five runs. Thailand have won all four of their matches and only need to beat Bhutan on Monday to complete a perfect record and win yet another competition.
TANZANIA PUT PRESSURE ON THAILAND BY BEATING BHUTAN
Sunday's morning game saw Bhutan play Tanzania and it was the African side who were victorious as they reached 92 for 6 in their 20 overs and then bowled out Bhutan for 50.Mwaindi Ammy made an unbeaten 30 for Tanzania as Devika Darjee took three wickets but it proved too much for Bhutan who suffered a remarkable six run outs to lose by 42 runs. Tanzania drew level with Thailand in the table as they moved on to six points.