CAT LEVEL ONE UMPIRING COURSE 2018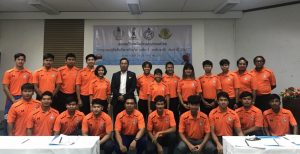 If cricket is to prosper in Thailand then it needs to develop the local cricketing human capital.Thailand has been going through a period of heightened development. This means not only the development of players but also essential key figures such as umpires.
CAT held its s Umpirers  Course from July 24th to July 28, 2018 in Kasetsart university Kamphaengsaen Campus . The course attracted participants from all around Thailand interested in umpiring  gradually building local number of  umpires.
The course  attended by about 21 people largely from Bangkok, Khoan Kaen, Chiang Mai, Chanthaburi, Chonburi , Lumphun and Phuket. This course should be of great value to cricket development in Thailand and CAT would like to thank local umpire educators for their time and effort in helping push cricket development in Thailand
.